All the regular women feel necessarily self-conscious in nudity. This is accepted as an intrinsic feature of female psychology.
However, we can see that the Buddhist beauties enjoying their wide hips and full breasts evince not a bit of this unnatural feeling of shame about their own natural appearance in a shocking way.
These latter feel at ease having no real cloth on. Even their fine ornamental girdles are mere decorations like their necklaces and bangles.

But what must such graceful and comely women be ashamed ofh?! It is just the women lacking similar forms who experience certain discomfort and need to shield their bosoms and groins somehow, being naked. Even when the woman is regarded as the Goddess of Beauty!
Nude Aphrodite and Venus in the arts

| | | | |
| --- | --- | --- | --- |
| | | | |
Usually it looks as if the women screen something sacrosanct from vulgar stares, which can desecrate that. However, the comparison with the Buddhist carvings reveals clearly that they try to conceal the banality of their forms.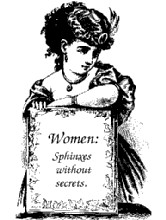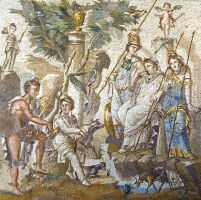 In regard to this observation, I would like to remind you the famous myth of the Judgment of Paris. According to the myth three goddesses desiring to win the beauty contest price, tried to get the price (the apple inscribed "for the fairest") by means of bribe. So, Athena Hera promised the judge power over the entire Asia, Athena promised him war glory and wisdom. Finally, Aphrodite, the goddess of beauty tempted Paris by promise of Helen, the fairest of mortal women. So, the goddesses' real beauty even was not considered.

| | |
| --- | --- |
| | |
| Artemis killing Actaeon for seeing her nude | |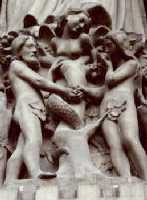 In contrast to the common notion of female body as the embodiment of perfect beauty, women avoid disclosing their nude bodies. And therefore any little bit of nude female body excites necessarily the men's admiration while, without doubt, this sight was as accessible as daylight for our furthest ancestors.

It's clear that this belief exists just because men's eyes are carefully preserved from blinding splendor of female treasures.


No exception even for beloved men, so "the rites in honor of the Love God" are held at the lights turned out as a rule.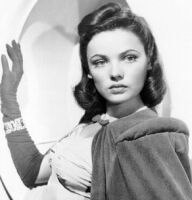 Missing their proper forms, women utilize various ruses to disguise instead. So they like to adorn themselves furtively with various fine dresses and accessories, from handbags to underpants. The same about female hairstyles — something, at least, must have round outlines in a woman.
In short words, women palm off trifle in rich wrapping, and dodge unwrapping as far as possible in order to escape the debunking.
Furthermore, women are known to avoid revealing their true ages. An apparent reason is, once again, in their underdeveloped forms that stay teenage lifelong.

Women feel surer and we enjoy them more when they feign round-forms somehow. For example, when they shift their hips, so that one side of the body looks like wide-hipped as in the upper right photo. This pose is named contrapposto in the arts.